opening health solutions on a global scale
Three regional networks spanning Brittany, France and West Africa have partnered with local health, research and corporate organizations to provide African fablabs with machines and consumables—with the goal of producing on-site equipment for testing, prevention of and protection against Covid-19.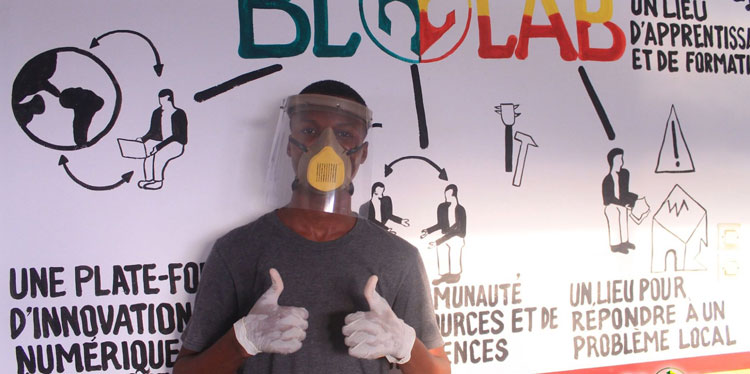 Already lacking in sanitary infrastructure and equipment, West African countries now have an urgent need for protective face shields and masks, ventilators and medical staff trained in intensive care. In response, African makers have mobilized to bring simple, low-cost and efficient solutions to detect, treat and prevent Covid-19. Makers Nord Sud contre le coronavirus (Makers North South against Covid-19) is a project to pool the capacities of three regional networks—Bretagne Solidaire (Brittany), Réseau Français des Fablabs (France) and Réseau Francophones des Fablabs d'Afrique de l'Ouest (West Africa)—to support health systems through local and sustainable manufacturing of sanitary equipment, while supporting the global actions of African fablabs.
Fablab dynamics in French-speaking West Africa
Their names are Ahmadou, Diarra, Gildas, Modou, Ghislain, Marie, Medard. They live in Senegal, Mauritania, Ivory Coast, Burkina Faso, Mali, Benin, throughout the Economic Community of West African States (ECOWAS). These men and women belong to one of the largest African networks of fablabs in the southern hemisphere: Réseau Francophone des Fablabs d'Afrique de l'Ouest (ReFFAO), founded in 2018, which organizes Make Africa every year in Cotonou, Benin. Currently, 27 fablabs are working together in 10 countries, locally reinterpreting ways of doing and sharing solutions in the field—adapted to local constraints, enriched with cultural diversity, as well as guided by a strong sense of meaning.
Hub Cité, an initiative of anthropologist and architect Sénamé Koffi Agbodjinou, founder of L'Africaine d'architecture and Woelab in Togo, stands in stark contrast to the European Smart Cities approach, instead integrating low-tech solutions and citizen participation. In this way, the project is more in line with the concepts of local productive autonomy advocated by the Fab City network. For example, sanitary handwashing stations (such as Senfablab's Dane Corona) are mechanical and designed for outdoor public spaces, far from electronic distributors or prototypes for individual bathrooms.
Further considerations are equal access (gender, disability, etc.), education/training and climate change, as seen in initiatives to rebuild computers (Jerry DIT), foster creativity in digital fabrication through art-therapy for victims of war and violence (Yop Crealab, Ivory Coast), or educate children who were exploited for gold panning (Wakatlab, Burkina Faso).
Mobilized on the ground since March
Today, more than 6,000 face shields have been printed, assembled and delivered to hospitals and clinics, while more than 200 automatic handwashing stations have been made from recycled materials. Six ventilators have been developed, more than 9,000 masks have been sewn and distributed, disinfectant gel distributors have been designed and installed in public spaces. More examples are listed on ReFFAO's website. But official recognition, material stock (there is no local production of 3D printer filament in ECOWAS) and on-site equipment are still sorely lacking.
Virtuous alliance at the core of a crisis
For the past three years, a trilateral partnership between ReFFAO, Réseau Français des Fablabs (RFFLabs) and Tiers-lieux Edu has produced a number of consorted actions. After Fair'Langue, an initiative that crossed fablabs and education with the Tiers-Lieux Edu network, and another project that was canceled due to the pandemic, Makers Nord Sud contre le coronavirus brings together new actors that are diverse and complementary, sharing a strong desire for solutions that integrate commons, the health sector and distributed manufacturing.
Particularly active within this project is a veteran organization that is relatively unfamiliar with the maker world, but which federates more than 40 solidary associations with intimate knowledge of the realities, cities and countrysides of Africa and Asia: Réseau Bretagne Solidaire. It includes dozens of cooperative projects, knowledge of diplomatic circles, calls for projects and pragmatism in the field. The connector between these worlds is Martin Lozivit, a geographer who worked in Cotonou for two years, also with Low-tech Lab, and administrator of Réseau Bretagne Solidaire. Along with Hugues Aubin (RFFlabs) and Woelab (Togo), he spoke about fablabs and sustainable cities at Make Africa 2019.
Other powerful players have since contributed their own resources: Just One Giant Lab (JOGL) and its 5,000 members are helping organize open research and development communities; Assistance Publique des Hôpitaux de Paris (AP-HP) with Roman Khonsari and Philippe Cochin, who architectured part of the Covid3d project to link prototypes to the medical field for scientific validation. They are the working gears of the first professional 3D printing farm set up in Cochin-Port-Royal during the lockdown in France (20,000 objects were printed, including medical devices used in the field).
Ahmadou Diallo from African Airbus Community, an informal and powerful network of goodwill for humanitarian projects across the continent, brings in the support of thousands of ingenious engineers. It's less about money than coordinating different skills and manufacturing rare or expensive parts. Now supported by the Presidential Council for Africa, this community shares contacts, opens its doors and leads the SN3DCOVID19 project in Dakar, a citizen collective of 10 Senegalese organizations (startups, associations, schools, universities) collaborating to fight Covid-19.
Labsud fablab in Montpellier has offered its digital work stations and its many contacts in the medical field in France's Occitanie region. Indiens Dans la Ville, founder of Atelier commun in Rennes, bring their expertise in upcycling plastics. Also in Rennes, members of My Human Kit, an international pioneer of crossover between makers and health applications with Nicolas Huchet, have also joined the fight. All together, the project includes French-speaking fablab networks (a total of 240 labs in 11 countries), health professionals, collaborative open source development platforms, international solidary organizations, artist-makers and industry.
Printing medical equipment and upcycling plastic for local manufacturing
Currently, Makers Nord Sud contre le coronavirus is engaged in two primary actions. The first aims to provide equipment for 10 fablabs in 8 ECOWAS countries, in order to support the development of prototypes in progress. A detailed list of equipment (machines, components, electronics) was established, following a call for West African fablabs. A map created with Thomas Sanz, researcher at Vulca and volunteer at RFFLabs, visualizes the locations of health centers in relation to fablabs and makerspaces. It shows the proximity between needs and ultra-local response, as many fablabs are located next to hospitals and already supply them with equipment.
The second action consists of working with Indiens Dans la Ville to install a Precious Plastic machine in Cotonou. This machine would transform plastic waste into raw material for 3D printing or molding. During the health crisis, Indiens Dans la Ville, mobilized alongside Couturier-es masqué-es, finalized a pivotal technique to control and specify the diameter of 3D printer filament upcycled from plastic waste. This open source tool can be adapted to local restrictions and used to test manufacturing of consumables and personal protective equipment, without the need to import rolls of filament, in close proximity to health care centers and the public.
175,000€ for 8 West African countries
The goal of all the partners is to convince big legitimate structures such as Organisation Internationale de la Francophonie (already supporting many solidary projects to fight Covid-19), Agence Française de Développement and any goodwill initiatives to financially support this project—then, if necessary, initiate complementary actions such as crowdfunding to further synergize the enthusiasm of African makers with the needs of health centers and local communities.
Since May, Makers Nord Sud contre le coronavirus has contacted numerous benevolent and concerned organizations: Research Institute for Development and its research-action program to support the African response to Covid-19 (ARIACOV), embassies, Organisation Internationale de la Francophonie, Fondation de France, French regions and cities (Occitanie, Bretagne, Rennes…).
The project is aiming for deployment by late 2020, as well as for an extension in time and space, to reconstruct health care according to a model that recalls the ideal of the Fab City Foundation: globally sharing and finding solutions for the common good of humanity, through legal manufacturing and distribution by local actors.
Health care as an open horizon
These improbable collaborations were formed during the pandemic in order to explore new leads in health care solutions. Among them is the "Open Santé" project, a complete open innovation loop for open source medical devices, by JOGL, Entraide Covid-19, AP-HP, RFFLabs, Fab and Co, the Facebook group Makers contre covid, and Visière solidaire (solidary face shield), a group formed by Youtuber Héliox, Covid3d.fr, Covid-initiatives, Makery Medialab, etc.
The concept is to create a continuous loop that integrates inventors of solutions and plans that respond to needs in health care, while incorporating selected manufactured models, rapid prototyping, medical validation, publication and dissemination online adapted to four types of manufacturing (individuals, fablabs, companies, industrials), manufacturing and legal use. This concept was presented on June 11 at the end of a special program by Make Magazine.
Makers Nord Sud contre le coronavirus seeks to develop this model with fablabs, health care organizations and authorities of West African countries in order to demonstrate a process that legalizes the on-site manufacturing of open source tools for diagnoses, prevention and treatment. This open process would have a significant impact on reducing the cost of research, development and certification of medical equipment, as well as eliminating problems in repairing imported devices (for example, up to 80% for prosthetics).
Intercontinental projects to solve a global issue
Determined to open health care solutions on a global scale, the brand-new platform Open Source Medical Supplies (OSMS)—which emerged from an alliance of makers during the Covid-19 crisis in the United States, now supported by the Food and Drug Administration (FDA)—is currently deploying a similar project worldwide, notably in English-speaking Africa. We met them while planning our francophone counterpart, as they collaborate with Translation Commons to offer 600 translators and a guide to open source medical assistance in the U.S. Together, Makers Nord Sud and OSMS, two projects that emerged from the invention of new circuits within exceptional legal frameworks during the crisis, potentially cover some 50 countries.
Will open health care take off?
As we hear about formulas for open source Covid-19 vaccines (for example from Open Source Pharma Foundation in India and in France), open health care offers hope for a global redistribution of resources through participative and especially distributed health care. The health crisis has given us an opportunity to invent not only objects, but also an entirely new systemic environment to reconstruct health care by placing part of its economic value in impacted countries. Beyond developing a cure for the novel coronavirus, this hope for a new deal concerns hundreds of millions of people worldwide.
Hugues Aubin
published in partnership with Makery.info
Makers Nord Sud contre le coronavirus website
This series of surveys is supported by the Covid-19 emergency fund of the Daniel and Nina Carasso Foundation.